Do you want to eat more veggies, use less plastic, and throw less stuff away?
We've got you.
Ideal Wrap wants to encourage you and your family to kick single-use plastics to the curb while helping your avocados live to see another day. 🥑

Our American-made, highly reusable, and 100% all-natural beeswax food wrap 🐝 can keep fruits and veggies fresh for days (sometimes weeks!) and take snacks and sandwiches on the go! 🥪

And we're so sure you'll love it, we offer a no-questions-asked 90-day money back guarantee.

#ohyeswedid

Wrap half of anything to save for later! 🍏 Great for fruits, vegetables, and cheese, as well as sandwiches and snacks 🧀 Cover a bowl, freeze sliced bread, keep an avocado half for DAYS 🥑🗓️ or keep a banana from ripening too quickly! 🍌

Oh, and never break out the plastic wrap EVER. AGAIN. 🎉

Check out these videos to see Ideal Wrap in action! 👇
Why switch to Ideal Wrap?
Ideal Wrap beeswax food wrap is designed and crafted to naturally reduce bacterial activity and help preserve your favorite foods, preventing food waste and plastic waste from food storage.
Made from 100% organic cotton, pure American beeswax, jojoba oil, and tree resin, it's the most natural food storage method of all.
Easy to wash and highly reusable, ONE wrap can replace literally hundreds of single-use plastic disposable items like zip-top bags, cling wrap, and flimsy plastic food containers.
Even better, Ideal Wrap never has to go in the garbage. When the time comes to take a wrap out of rotation, it can be repurposed into nifty fire-starters (among other things!) or composted.
Use & Care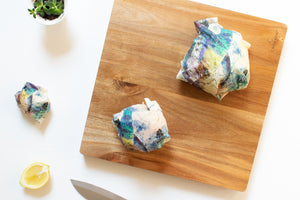 How to Use
Just mold your wrap directly around foods or containers. It takes a little pressure and warmth from your hands to create a seal.
Ideas and Uses
How to Clean
Since Ideal Wrap is naturally antibacterial, clean it by simply rinsing under cool water, adding a little dish soap if needed. Hang to dry.
More about Washing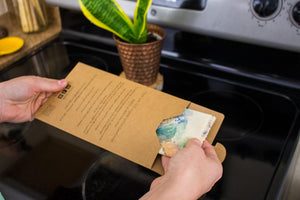 How to Store
Store your wrap, clean and dry, folded in the original packaging for the best preservation. This prevents airborne particles from sticking to the wrap.
Testimonials 🙌
Garden to Glass Mixology needed an eco-friendly alternative to plastic, and we cannot be more happy with Ideal Wrap! We strive to re-use all available products to create a sustainable mobile beverage service, and the durability and flexibility of Ideal Wrap has made our jobs so much easier.  We love the versatility of their line of wraps, and how easy they are to use in place of plastic.  There seems to be nothing Ideal Wrap can't handle!  Keep up the great work team.

Michelle S., Garden to Glass Mixology
If you meal prep or cook at home, this is a must. Best way to cover things instead of using Saran wrap. Best alternative to wrap up sandwiches and food to go. And reusable means I don't have to keep buying foil/plastic or make trash!!

Sam C.
This is hands down THE BEST way to cover water kefir. Even in the dead of winter in the Midwest my water kefir is FIZZY, light, and delicious! And my grains have never looked healthier after only using it twice! I am completely sold. I can't wait to try it for yogurt!

Kari B.
These wraps are amazing! From the quality to how flipping cute they are! They rinse off very well, don't crack like others, and all around are amazing. I wrapped an avocado and it was still perfectly green 5 or 6 days later when I had forgotten about it. Thanks!

Amanda R.
These re-usable wraps are another example of being a conscious consumer. While they probably won't solve climate change they are a large step in the right direction, over time save you money and decrease your exposure to chemicals. And so far I am really impressed with the quality. 👌

Sarah T.
The colors are vibrant and the pattern is so cute. After using this, I'll never use plastic wrap again! It's convenient and reusable, and it only takes a quick rinse to clean off! I definitely recommend!

Angelina H.
I love my Ideal Wrap!! I use it all the time at home and I highly recommend it to everyone! Great gift idea too! ♥

Liz P.
LOVE LOVE this plastic alternative for food wrap! I use it for everything from covering plates of leftovers to wrapping up snacks for lunches! Easy to wash and super cute designs!

Lily J.
Happiness Guarantee
We are so sure you're going to love your Ideal Wrap that we back it for 90 days! If you're not 100% happy, we'll refund your purchase. 
Read our policy